The HI-TRAC CMU is a small, low powered, low cost electronic system capable of monitoring up to 4 cycle lanes and 4 pedestrian lanes.
The CMU uses established pyroelectric infra red sensors to detect pedestrians.
The CMU can be powered by a small 3W solar panel mounted on top of a small pillar, supported by two rechargeable 6v 8AH batteries to form a fully standalone permanent solution.
The CMU unit is sealed to IP68 and can be installed into a small pillar or post.
The CMU can be configured to automatically transmit traffic data via GPRS/2G/3G/4G to a web server for secure data storage to a database.
Legacy GSM dial-up communication is also supported.
STORAGE CAPACITY
• 8GB microSD Non-Volatile 365 Day VBV Capacity
INPUT/OUTPUT PORTS
• 4 Nos. Pyroelectric Infra Red Sensors
• 1 Nos. GPRS/GSM/2G/3G/4G Modem
• 1 No. Bluetooth™
• 4 No. Triggered Outputs
• Detects: Pedestrian walking and on Bicycles
• Measures: Volume and Direction
• Vehicle-by-Vehicle (VBV) data storage
• One Pyroelectric Infra Red Sensor per walkway.
• CMU electronics housed in above ground pillar or post.
• Typical installation time – 2 hours.
DIMENSIONS & WEIGHT
• W – 120mm
• D – 60mm
• H – 110mm
• Weight: 1 kg
POWER SUPPLY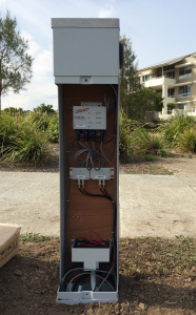 • 6v 8 Ah Lead Acid Rechargeable (x2) with optional 3W solar panel mounted on Haldo pillar
• Triggers for Cycle Signal Priority
• Installed into dedicated cycle ways or mixed traffic lanes
• GPRS/GSM Telemetry Option
• BluetoothTM
Option
• Pedestrian detection using pyroelectric infra red sensors
• HI-COMM 100 Compatible:
• Data Download, Analysis, Real Time VBV View, Report Generation & Diagnostics
• Data hosting and reporting service
• App for Android for easy set up