The HI-TRAC CMU bike counter is a small, low powered, low cost electronic system capable of monitoring up to 4 cycle lanes and 4 pedestrian lanes.
The CMU bicycle counter uses established inductive loop sensor technology to detect bicycles in either dedicated cycle ways or mixed traffic lanes as well as pyroelectric infra red sensors to detect pedestrians.
The CMU bike counter can be powered by a small 3W solar panel mounted on top of a small pillar, supported by two rechargeable 6v 8AH batteries to form a fully standalone permanent solution.
The CMU unit is sealed to IP68 and can be installed into a small pillar or post.
The CMU bike counter can be configured to automatically transmit traffic data via GPRS/2G/3G/4G to a web server for secure data storage to a database.
Legacy GSM dial-up communication is also supported.
STORAGE CAPACITY
• 8GB microSD Non-Volatile 365 Day VBV Capacity
INPUT/OUTPUT PORTS
• 8 Nos. Inductive Loop Sensors
• 4 Nos. Pyroelectric Infra Red Sensors
• 1 Nos. GPRS/GSM/2G/3G/4G Modem
• 1 No. Bluetooth™
• 4 No. Triggered Outputs
• Detects: Bicycles, Bicycle Clusters, Bicycles in two directions, Bicycles with Pedestrian walking and Bicycles made of non-metal materials including Carbon-Fibre.
• Measures: Speed, Direction and Gap/Headway
• Vehicle-by-Vehicle (VBV) data storage
• One or two Inductive Loop Sensors per cycle lane or mixed traffic lane.
• One Pyroelectric Infra Red Sensor per walkway.
• CMU electronics housed in above ground pillar or post.
• Typical installation time – 2 hours.
DIMENSIONS & WEIGHT
• W – 120mm
• D – 60mm
• H – 110mm
• Weight: 1 kg
POWER SUPPLY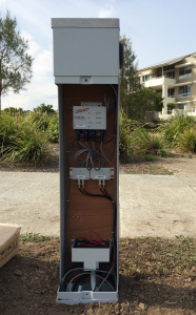 • 6v 8 Ah Lead Acid Rechargeable (x2) with optional 3W solar panel mounted on Haldo pillar
• Triggers for Cycle Signal Priority
• Installed into dedicated cycle ways or mixed traffic lanes
• GPRS/GSM Telemetry Option
• BluetoothTM
Option
• Pedestrian detection using pyroelectric infra red sensors
• HI-COMM 100 Compatible:
• Data Download, Analysis, Real Time VBV View, Report Generation & Diagnostics
• Data hosting and reporting service
• App for Android for easy set up