Pedestrian & Cycle Monitoring
In January 2014, TDC Systems was awarded a contract to objectively measure the success of the program, by installing pedestrian and cycle monitoring sites across the Gold Coast.
The contract included a 12 month data provision. Formatted reports and raw data are automatically generated and delivered to the Gold Coast City Council.
Data from the field equipment is automatically transmitted via mobile network to TDC data servers. As a result of the success of the contract, Gold Coast City Council is looking to expand the pedestrian and cycle monitoring by a further 10 sites in the near future.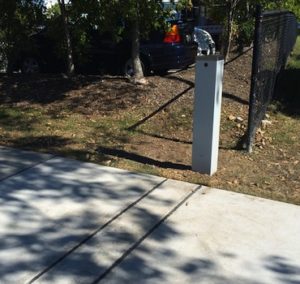 TDC Systems' HI-TRAC ® CMU Cycle Monitors have been installed across the UK and TDC is proud to launch two new exciting products inspired by the cycle revolution taking hold across Europe. The new HI-TRAC® CMU Green Light Priority System and HI-TRAC® CMU Cluster Sensor.
Key Features
Accurate Mixed Traffic Cycle Detection
Unique algorithms developed by TDC Systems measure the axle count, speed and wheelbase to distinguish true bicycles from other traffic such as children's scooters, prams, trolleys, motorbikes and mopeds.
Unique Piezo Cycle Cluster Detection Sensor made exclusively for TDC
This innovative combination of the new cycle cluster sensor and HI-TRAC® CMU cycle monitoring unit with specially designed algorithms, provides accurate cycle detection in locations of dense cycle traffic. The unit provides highly accurate cycle path traffic data collection as well as mixed traffic cycle detection.