Bicycle Counting and Signal Priority System
Copenhagen has long been established as one of the world's great cycle cities. In order to improve the cycle experience Copenhagen's authorities are looking to offer cyclists priority at traffic light junctions.
By offering extended green light time, they allow priority release for cyclists to pass through over other road users. Given the high numbers of cyclists using the cycle networks in Copenhagen, TDC had to offer a solution capable of monitoring in excess of 10,000 passing per day and the potential of multiple cyclists passing over the sensors at the same time.
In 2013, TDC and MEAS introduced the CYCLE CLUSTER PIEZO SENSOR to provide accurate cycle detection in locations of dense cycle traffic. This Cycle Cluster Piezo Sensor has been deployed for a traffic signal priority scheme in Copenhagen, Denmark.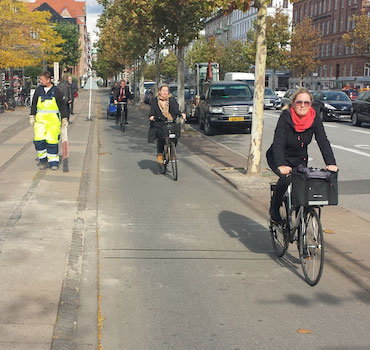 The HI-TRAC® CMU is located in the traffic signal controller cabinet 25M from the sensor array located in a dedicated cycle path as detailed in the drawing.
TDC Systems' HI-TRAC® CMU Cycle Monitors have been installed across the UK and TDC is proud to launch two new exciting products inspired by the cycle revolution taking hold across Europe. The new HI-TRAC® CMU Green Light Priority System and HI-TRAC® CMU Cluster Sensor.
KEY FEATURES
Accurate Mixed Traffic Cycle Detection
Unique algorithms developed by TDC Systems measure the axle count, speed and wheelbase to distinguish true bicycles from other traffic such as children's scooters, prams, trolleys, motorbikes and mopeds.
Unique Piezo Cycle Cluster Detection Sensor made exclusively for TDC
This innovative combination of the new cycle cluster sensor and HI-TRAC® CMU cycle monitoring unit with specially designed algorithms, provides accurate cycle detection in locations of dense cycle traffic. The unit provides highly accurate cycle path traffic data collection as well as mixed traffic cycle detection.
IP68 Sealed
The HI-TRAC® CMU unit is sealed to IP68. It can be fitted into a small pillar or housed in existing street furniture. TDC can configure the HI-TRAC® CMU to automatically transmit traffic data through GPRS to a web server for secure data storage to a database. GSM dial-up communication is also supported.