Scotland Erskine Bridge Weigh-in-Motion & ALPR System
The Erskine Bridge is a large a cable stayed box girder/cantilever bridge bridge which was designed by William Brown and opened on the 2nd July 1971 by Princess Anne. The bridge spans the River Clyde in west central Scotland connecting West Dunbartonshire with Renfrewshire. The estimated daily traffic across the Erskine Bridge is over 30,000 vehicles with a significant amount of these being heavy goods vehicles.
In 1996, the bridge was damaged by an oil rig which was being towed under it, resulting in partial closure for almost 4 months. This caused much disruption not just locally but also to the centre of Glasgow as the nearest possibilities for crossing the River Clyde locally are the already congested Clyde Tunnel and the very busy Kingston Bridge. So the requirement to ensure that the bridge has reduced damage caused by overloaded vehicles is very important as another closure is unthinkable.
As the tolls were removed in March 2006 there is a much reduced staffing level at the Erskine Bridge control office. Any weight detection system would have to be fully automated and work unmanned with minimum intervention. There was a need for a low cost and low maintenance solution that utilises limited road closure time.
One solution would have been to install a High Speed Weigh-in-Motion (HSWIM) system that logs vehicles axles weight data but unless the system is manned there is no way of identifying any overweight vehicles.To overcome this TDC have designed and installed a joint HSWIM and Automatic Number Plate Recognition (ANPR) system as part of a combined vehicle monitoring and bridge protection system.
The installed HI-TRAC® 100+ logs the vehicle axle weight information using Class 1 BL Piezo Electric sensors and the system couples this data with the ANPR data to produce evidence showing all relevant information.There is an additional camera that takes 5 photos of the vehicle from a side-on view which can identify the haulage company and also the load carried if necessary. This also helps with clarifying if HGV axles are lifted when they shouldn't be.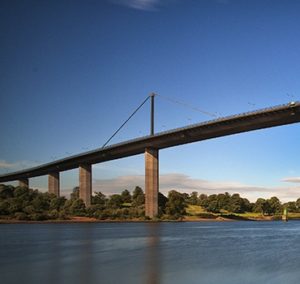 These results prove conclusively that combined ALPR and WIMS installations provide a stunningly effective targeting tool. This system is fully operational and reports can be printed for overweight vehicles if necessary and the offending parties can be shown the evidence.
Key Features
KISTLER LINEAS® QUARTZ WIM SENSORS
Kistler Lineas® Quartz WIM Piezo Electric Sensors allow the product to detect mixed traffic, recording axle weight, vehicle classification, speed, axle count, wheelbase, gap and headway.
Weigh-in-Motion
With installations in more than 50 countries, TDC Systems' is internationally recognised as a leader in high and low speed Weigh-in-Motion systems. TDC's HI-TRAC® range of high speed WIM systems are installed along highways to weigh vehicles at normal highway speeds (20-120kph) and detect, count and classify vehicles.
ALPR FOR VEHICLE WEIGHT ENFORCEMENT PURPOSES
TDC's Automatic Number Plate Recognition (ALPR) system has been installed as an overweight vehicle targeting and enforcement tool. The system combines TDC's HI-TRAC® 100+ WIM and ALPR Cameras with the precision of Kistler Lineas® Quartz WIM Sensors. The WIM sensors are installed on the highway 1km ahead of the low speed enforcement weigh stations.